Why Arthur Johnson and Sons?
We have the largest constantly changing selection of furniture and collectables to be offered for sale by auction anywhere in the Midlands. This attracts an enormous number of trade and private buyers.
Last year we had more than 40,000 buyer registrations, including international buyers. We are therefore able to offer your items to the widest possible audience. It is always our aim to arrange payment within 7 days of all your lots having sold. We do not ask you to wait 28 days, as many auction houses do.
Opening Hours
*** PLEASE NOTE - DURING THE CURRENT GOVERNMENT LOCKDOWN, OUR SALEROOMS ARE CLOSED TO THE PUBLIC, BUT WE ARE ABLE TO ACCEPT LIMITED ENTRIES ON AN APPOINTMENT-ONLY BASIS.
Monday to Friday 9.00am until 5pm. (Please Note: Open for entries only on Mondays)
Saturday 9.00am until 2.00pm.
Sunday 10am - 3pm (Collections only)
How to Sell
We will be happy to discuss what you have to sell and how best to enter items in a forthcoming sale. In many cases we recommend a free home visit. We suggest that you contact us (on 0115 9869128) use our contact for here or email us at directly clientservices@arthurjohnson.co.uk. When emailing please be sure to include your telephone number.
We accept entries from 9.00am every Monday (except Bank Holidays) up until 5.00pm. If you are a new client we recommend that you telephone us on the above number.
Commission
The standard rate of commission is 15% (plus VAT) subject to a minimum fee of £3.50 per lot. We are happy to discuss reduced rates for high volume consignments. Please note that we do not make any additional charges for insurance.
For items included in the-saleroom.com live webcast sales in Salerooms 1 and 2 we charge an additional entry fee of £1.75 per lot. Each of these webcast lots is uploaded directly to both our website and the-saleroom.com where the auctions are broadcast to a international audience.
If a customer's lots are being sold over several weeks we can make interim payments after each sale on request.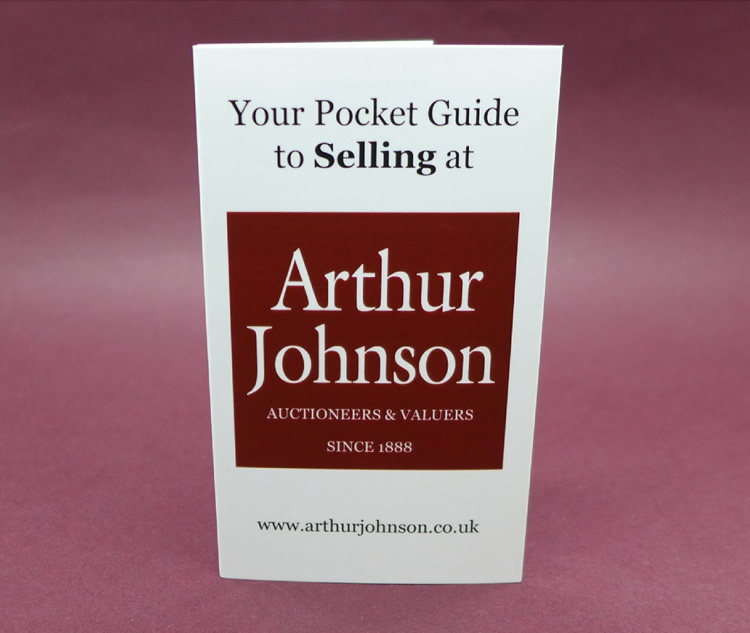 Pre-Sale Advice
If you wish to place a reserve price on any of your items we are happy to advise you.
Payment
We pride ourselves on paying our clients promptly. We will normally send a cheque to all our vendors within seven days of all their items having been sold.
Collection Service
Our removal contractors have many year's experience in moving antique furniture and other effects. They provide a very efficient, friendly service and their charges for bringing items into the salerooms are based on a rate of £45 per hour for a van and 2 men. We will pay the contractors on your behalf and deduct the costs from the sale proceeds.
Parking
For clients who wish to bring their lots to the salerooms themselves, there are ample car parking and unloading facilities.
Conditions of Sale
We recommend that you read our Conditions of Sale here.